Email Marketing represents a huge opportunity to strengthen the link with users, extend the life cycle of communication and make it more effective. And precisely, in this process is where drip campaigns become an indispensable piece.
These correspond to a set of messages that are sent based on the defined user segments and triggers , at specific times and dates.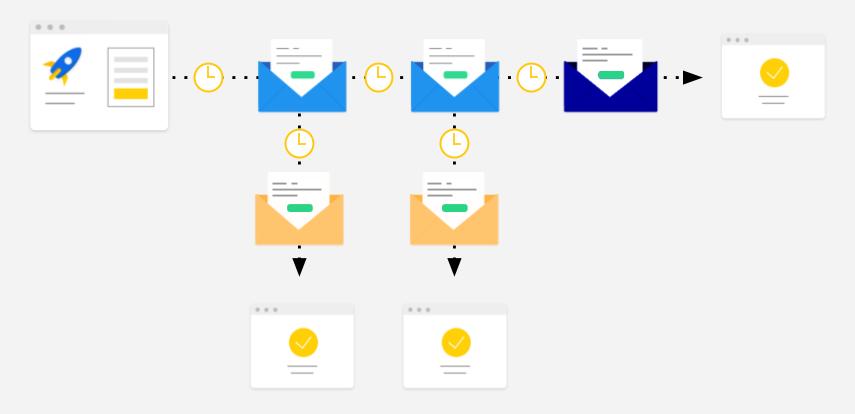 To create these emails you need to be clear about your goals, know the type of content you will deliver and establish the time and frequency of delivery.
Each series must be strategically planned to encourage a specific action by the recipient, respond to their interests or needs and keep them engaged. All this, activated in a Marketing Automation workflow
Now, let's practice and review some occasions that merit the implementation of drip campaign.
1. Registration in a subscription form
When the user enters your contact list, the first action that should be activated is the sending of a welcome message.
But a simple greeting is not enough, you need to take advantage of that opportunity as an introduction to your content, products or services. And the options to shape your series of campaigns are many.
For example:
[After subscription] Personalized email to confirm registration and thank for it.
[3 days later] Newsletter with detailed information on the benefits of being a subscriber.
[1 week later] Message with a captivating Lead Magnet and exclusive for new users.
It is important that your series is clear enough about what the subscriber can expect and get from your new campaigns.
And give him the possibility to answer your emails, he may want to thank you for your welcome, share a concern or give a suggestion. Don't forget that he still doesn't know you completely.
2. Service renewal
Do not wait for the expiration date to find out if the user will opt for a next period.
Having your list segmented, from the Loyalty platform , you can configure a Marketing Automation workflow to remind your contacts that time is running out and encourage renewal.
Let's go to the example:
[2 months before] Reminder plus the benefits you will get by renewing.
[1 month later] Email with attractive offer to reactivate early.
[1 week later] If it renewed, send a Newsletter with complementary services.
By the way, each activation will depend on the way in which the user interacts. Even if she ignores your emails, you need to find out why.
An alternative is to send them a satisfaction survey that allows evaluating the period of use, you may discover that it requires training to take advantage of the service.
3. Recommendations
It is very valuable for subscribers that your automated Email Marketing campaigns consider this item.
The best thing is that you can apply it before and after a purchase, which will help you strengthen the sales processes, improve the user experience and build customer loyalty.
Let's review an example post purchase, focused on a travel agency:
[Immediately] Congratulations message plus a suggestion about 5 nearby cities to visit in the destination country.
[1 week before the trip] Recommendations to enjoy (accommodation places, restaurants, heritage sites, etc.).
[1 week after the trip] Email with opinion poll.
It is essential to know the subscriber, know what their interests and concerns are, and understand how they relate to your company.
That way, you'll be able to make a more accurate prediction of what you want and look for, in addition to modeling a drip campaign that's useful, engaging, and innovative.
4. Lead Nurturing
Not showing the value of your products or services or how consumers can benefit from them is a great missed opportunity.
Nurturing leads is an elementary task in Email Marketing, without it the journey between the stages of the Customer Journey is difficult and the options to generate a new conversion are reduced.
So, let's get to work and create a set of emails to achieve this goal, thinking of a company that offers a demo for 1 month.
[Immediately after activation] Thank you newsletter plus instructions for use and benefits of the service.
[15 days later] Email with satisfaction survey.
[1 week later] If the rating was positive, send a message with access to a video about the features present in the premium version plus an offer and a CTA to activate it.
[6 days later] Last shipment to reiterate the previous discount, remember that the expiration is approaching and attach the activation CTA.
Where's the key? Do not put commercial interests over those of the subscriber. The initial message cannot be a call to buy.
If there is no value proposition, it is difficult to obtain an intention to consume in the short or medium term.
Beware of excesses!
Every drip campaign must have set limits. The indiscriminate sending of emails reduces the effectiveness of Email Marketing, generates annoyance in the recipients and damages the corporate image.
Therefore, each series of messages has to be developed strategically, which, in addition to identifying the objectives and segmenting the contact list , involves solving key issues in the success of the offices.
Specify what the triggers will be.
Define what you are going to communicate according to each trigger.
Determine how many campaigns the series will have.
Establish waiting times between each shipment.
Have an additional action plan that allows for an efficient response to any situation not considered in the initial process.
The main thing is that your drip emails effectively nurture recipients and help engage them after a purchase. They must be a real contribution to your inboxes and encourage interactions. Make your Marketing Automation workflows consist of innovative, attractive and honest messages. This is essential to establish a relationship of trust and promote Brand Awareness.