We are all consumed by busy work schedules. Technology has provided ample and effective assistance in reaching out to a larger audience but at the same time, increased promotions and marketing drives have made them repetitive. Brand promotions are everywhere; from billboards to virtually all types of media platforms, they are as promptly found as grocery items. People are constantly being bombarded with messages from both digital and physical mediums. Busy routines do not allow much time to interpret each message, making effective communication harder for businesses.
Such a packed and noisy environment loaded with commercial marketing, must be productively broken with an efficient communication tool that encourages customers to instantly notice it as being different. Often the envelope is overlooked as a potential candidate for this task. They can prove to be much more than mere office stationery that only holds operational value. Utilizing envelopes can enable you to realize the potential of these items by using the space available on them for branding.
Envelopes wrap up your special messages or invitations and hence are always required to be unique, proficient, and attractive. The first impression made by your brand is the impression made by your envelope and hence it is necessary to have a perfect and elegant design of your business through custom printed envelope printing that aligns with your precise needs. Let us see some of the major reasons why you should go for custom envelopes.
Build a robust brand image
For better promotion and appeal of your products, you require strong branding that will create your brand's name among target customers and constructively make your brand a hot seller. Custom-made envelopes can provide you with such branding with bright colors and an attractive company logo, creating a strong image of your brand for the customers. So, getting the most suited envelopes printed and styled will make your company a known brand among the rivals.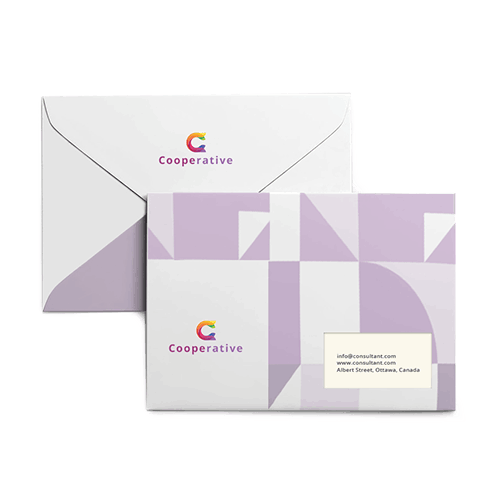 Incorporate graphics to make a strong statement
Being distinct is mandatory in today's competitive landscape. The average individual's attention span is only around 8 seconds, meaning that when you send a piece of mail, you have a small-time window to capture the customer's interest. This moment decides whether they want to read the contents or place it in their junk. Recipients receive lots of mail each week. According to the Data and Marketing Association, direct mail volume reached 149 billion pieces in 2016, meaning that brands have to take every possible advantage to stand out and make a favorable first impression.
Envelopes say more about your brand than you might give credit to. The presentation of your letter is just as important as the contents, and a tailored envelope with unique graphics or custom dimensions is an opportunity to leave a positive and lasting impression of your brand upon prospective consumers. A generic envelope is instantly forgotten, but the one bearing your company's personality and a compelling format or design have a better chance of making each recipient feel more aware of your brand.
Speak directly to the customers
Tailor-made envelopes also offer the unique chance to speak directly to each mail recipient using basic customer information, such as their first name. Even the simplest personalized message can make a strong and durable impact on customers. Research shows that around 84 percent of consumers are more likely to open a piece of mail if it appears personalized for them.
Custom graphics, colors, and personal content can all boost the envelope's effectiveness as a communication tool for your brand. But make sure that for the envelopes to make the most visual effect, they should coincide with customer expectations. The right printing house can help you achieve a higher level of customer viewership for your envelopes.
Build a vibrant environment for branding
Aptly colored envelopes can further distinguish your business and its mail. A study revealed that, for direct mail, about 69 percent of consumers are more likely to open an envelope adorned with engrossing color texts and graphics than a generic and bland one. Every piece of mail gives you the liberty to build a standard look or mix and match different features like rich & striking colors, laminations, address window cutouts, inside printing, peel & seal, among other choices.
Customers take better notice of a holistic branding approach. This makes them feel part of the promotional process when their needs have been incorporated for creating the ideal product. This is what brand marketing is set out to attain in the first place. Direct communication that grabs attention on-the-spot gives the perfect opportunity for increased brand recognition.
Assure that you have the right base
Apart from styling these envelopes with attention-grabbing features, it is vital that the envelopes are structured correctly. More than the appearance, the customers judge the brand through the quality of these envelopes. They should be crafted out of sturdy card or paper stock that doesn't get folded while mailing. Moreover, a firm envelope is bound to give off a professional brand image and compel customers to find more about it. Use this platform to enhance the credibility of your brand and make it easily recallable.
Printing informative details on the envelopes allow your business to be clearly explained to the customers. All the above benefits can be attained conveniently with the help of custom printed envelope printing that makes your business identity stronger and instantly relatable.
Make them match with your other promotional tools
Having consistency in branding makes it work effectively in captivating customers' curiosity. The envelope styling must resonate with the overall brand image to be well-recognized. A complimenting item that can be designed as per the envelopes is your letterheads. Matching the envelope style with your company letterheads will appear more wholesome and provide multiple benefits.
Conclusion
Custom envelopes come with a lot of advantages and are definitely good for promoting your brand. They play an important role in creating an impression of your business so use them perfectly with apt styling. Use these to make your business productively touch new heights.